EducationPosts.ie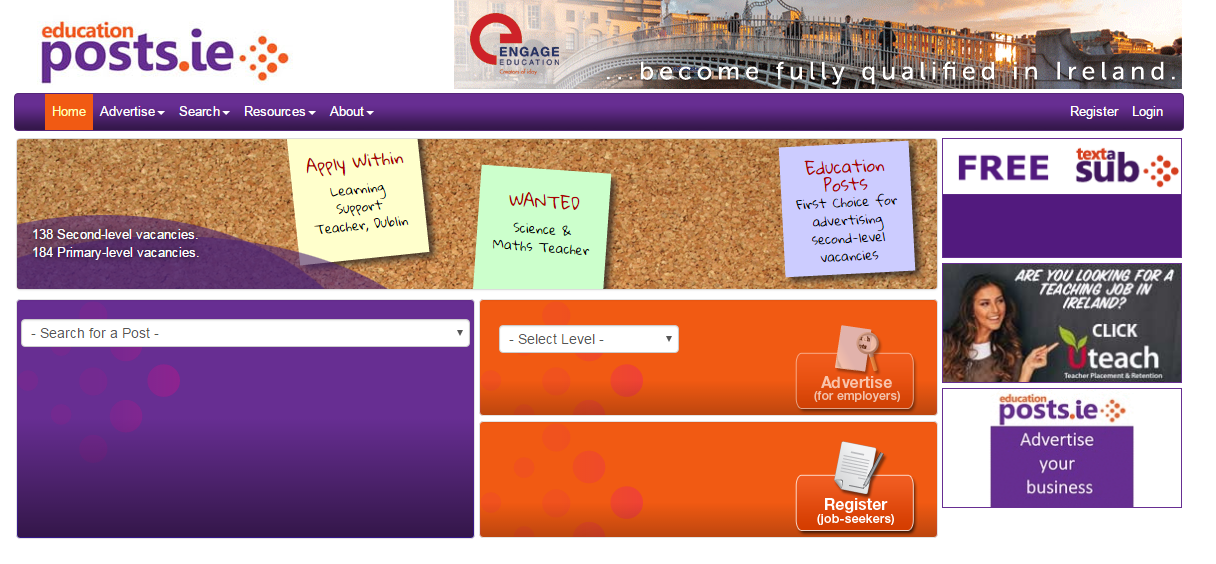 EducationPosts.ie is Ireland's longest established and most widely used website dedicated to education recruitment. The site was established in July 2002 to reduce the cost burden of newspaper advertising by offering a cheaper online alternative. Since then, tens of thousands of education vacancies have been advertised on the site across pre-school, primary, post-primary, higher & further education and International & Other Education job posts.
Visit EducationPosts.ie for all your education related advertising requirements:
Approved by the Department of Education & Skills - Circular 0020/2012




17,000 education related job posts advertised in 2017




More than 102,000 active account holders




Advertise all Education related job posts – teacher, school leader, special education teacher, special needs assistant, supply teacher, childcare worker, home school community liaison, home tuition, language support, caretaker / janitor, secretary, substitute and redeployment panel vacancies.




Advertise across all levels – pre-school, primary, post-primary, higher & further education, Other Education and International job posts




Upload directly to the website – no paperwork




Standard application forms are available in the Resources section




Adverts automatically removed after closing date




Up to 120,000 email alerts issued daily to jobseekers




More than 17,000,000 page views generated annually




Over half a million unique users logged every year




In excess of 3 million online sessions a year




Immediate reach to Irish education professionals and to the broader education community.
See EducationPosts.ie now
NEW SITE LAUNCHING SOON!!
Follow us on social media for regular updates