December 2018 - Centre for School Leadership Update
Centre for School Leadership Update-December 2018
"Education is for improving the lives of others and for leaving your community and world better than you found it."
Marian Wright Edelman
Mentoring for Newly-appointed Principals
The big mentoring wheel of CSL trundles on, and is gaining strength, direction and a sense of appreciation as it does so. It hits the odd bump in the road here and there but becomes more accustomed to the landscape as it travels and adapts accordingly!
There are currently 260 primary mentor/mentee matches, the learning is immense, and the feedback is very positive. This year, CSL tendered for software to assist with the matching process. This software proved very useful in this capacity.
To facilitate professional learning for CSL mentors, Cohort One and Two had two professional learning days in the Sheraton Hotel in Athlone on November 29th and 30th. There were 252 principals in attendance.
Shane Martin presented a powerful talk entitled "Uprooting the Roots of Stress" and mentors had the opportunity to meet with their CSL Cara for an hour to discuss how the mentoring relationships are going, and to develop strategies to deal with challenges they encounter.
The participants attended two workshops on Friday 30th, on mentoring skills and distributing leadership, and Senator Lynn Ruane presented in the afternoon on her early experiences of education as she grew up in Tallaght. She spoke about her determination to learn so that she would have the capacity to voice her concerns about disadvantage and to fight for those suffering from addiction and the myriad of problems related to it. She also spoke about the recent publication of her book, "Someone Like Me".
Cohort Three participants attended their professional learning days, also in the Sheraton Hotel, on November 22nd and 23rd. There were 95 in attendance.
On this occasion, Dr. Joe O' Connell presented his workshop on "The Importance of Emotional Intelligence for School Leaders". The participants took part in meetings with their Cara and in professional learning communities to discuss issues relevant to their everyday practice. Dr. John White from DCU presented on non-verbal communication, giving numerous tips and pieces of advice relevant to effective communication for everyday life in schools.
Cohort One and Two reconvene in the Sheraton Hotel on March 12th and 13th, Cohort Three on March 28th and 29th.
There are currently 32 primary CSL Cairde. 12 new Cairde were trained on September 25th last and all existing Cairde were offered the opportunity to attend a Development Day in Athlone on September 26th at which Shane Martin made a presentation as did Seán Hourihane, himself a CSL Cara. Seán's presentation examined possibilities around hooking each Cara/Mentors' meeting with a standard on the Quality Framework for Leadership and Management from the Looking at our School 2016 document.
Unlocking Potential through Coaching
CSL Coaching was launched in January 2017 and is a confidential, one-to-one personal service now available to all school principals. It is a powerful tool to develop individual and organisational performance by unlocking potential and capability. The service is fully funded by the DES and 555 principals have already benefitted from it.
Principals face a wide range of challenges and goals that can benefit from coaching, as it offers the time and space to reflect on both. It can also:
Help create a coaching culture in schools

Enhance capacity to work in a changing environment

Increase ability to prioritise and manage demands

Enable more successful management of change

Renew enthusiasm for the job.
To engage with the service, principals can go to www.cslireland.ie and access 40 coaches in six regions around the country. A 'chemistry check' is available followed by six further meetings over a one-year period, and a final review six months after the last meeting.
40% of those accessing the service are teaching principals, 25% are from DEIS schools and 27% have special classes in their schools.
Testimonials from principals demonstrate the effectiveness of coaching as a leadership tool.
"Coaching has been one of the most useful leadership tools that I have come across. It gives me time to reflect upon myself, my actions and my decisions. I am making changes in my practice."
"Coaching has been invaluable to me. We experienced a crisis in the school and I believe that it was the coaching that helped me personally get through the crisis and assist the staff in coming to terms with our situation. I couldn't recommend it highly enough."
Team Coaching
This one to one coaching service has now been further expanded to include other leaders in school communities so that the school leadership team can increase their ability to prioritise and enhance their capacity to work in a changing environment. This service will provide time and space for the senior and middle leadership team to reflect on their roles in a collaborative manner.
Team Coaching is a professional, coaching-based developmental approach which will enable school leadership teams to begin their journey towards an empowered and team-led leadership model envisioned by the DES in Domain 4 of "Looking at our School 2016.
Team Coaching is available to School Leadership Teams in Primary and Post-Primary Schools where the Principal has already completed a minimum of four sessions of one-to-one coaching though the current CSL School Principal Coaching Programme.
The CSL and the Department will be made aware of individual schools availing of Team Coaching. This service is not anonymous. Confidentiality will apply to all discussions/communications between a team coach and school leadership team participants, and to any materials/instruments used in the context of the team coaching. School Principals should contact their individual coach for further information.
Accessing CSL Team Coaching for School Leadership Teams
The Principal and their individual coach, during their own coaching discussions, can explore team coaching and its relevance and appropriateness to the school

Principals who have received a minimum of four individual coaching sessions through the current CSL School Principal Programme can immediately avail of Team Coaching in their School

On confirmation of interest the Principal and their coach either work together on Team Coaching or work with an agreed nominated Team Coach from that Coaching provider's CSL coaching panel

The Team Coach will facilitate a detailed exploration of the interest and priorities for Team Coaching with the School Principal and School Leadership Team. Team Coaching content will be customised to individual schools to best deliver on the identified priorities and support the building of the School Leadership Team capability

4 x 2-hour Team Coaching sessions are available per school with a maximum of 6 participants from the School Leadership Team including the School Principal

It is anticipated that Team Coaching will be conducted over a maximum of 9 months

It is the responsibility of the individual school to provide a venue and any related costs must be borne by the school.
The Post Graduate Diploma in School Leadership (PDSL)
A total of 241 Cohort 1 PDSL participants have completed the final semester of their course. A total of 274 aspiring school leaders (Cohort 2) enrolled for the course in September 2018.
24% of participants are teaching in DEIS schools, 49.64% are Post-Primary teachers and 50. 36% are Primary teachers. The Leadership visits element of the course is proving very successful with students visiting, observing and reflecting leadership practices in other schools and in areas outside of education.
Planning is commencing for Cohort 3, and the application process will open in January 2019.
The consortium was delighted that the PDSL course was recently shortlisted for the GradIreland Awards.
Endorsement /Quality Assurance
The CSL pilot of quality assurance of professional learning provision for school leaders is currently in completion and the learning from this pilot with inform the quality assurance remit of CSL going forward. The current quality assurance handbook will be amended in light of the learning from the pilot and uploaded to our website. Peer learning from quality assurance/endorsement processes in Scotland and Wales will further inform this work.
Deepening and Broadening the Continuum of Professional Learning for Leadership
Following on from the bilateral seminars held with all stakeholders in the early part of 2018, the team has produced and published a continuum and a model of professional learning for Irish school leaders. Currently, this is represented by the graphic below which is available on the CSL website with a brief explanatory video. There is a plan to further develop and articulate this graphic and to present a research document to further explain the content.
The long term vision is that this continuum would contain endorsed/quality assured professional learning for school leaders at every career stage.
A Continuum of Professional Learning for School Leadership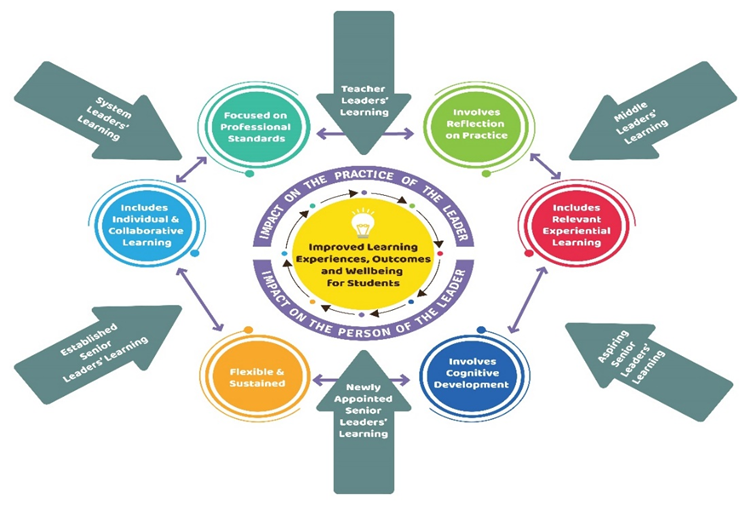 Coordinating Stakeholder Collaboration in the Provision of Professional Learning for School Leaders
All stakeholders (Management Bodies, Teacher Unions, Professional Associations, Third Level Colleges, NCCA, Teaching Council, DES Inspectorate, Business in the Community and all DES support services involved in professional learning for school leaders at all levels on the continuum were invited to two collaborative forums on Oct 7th (Primary) and Oct 14th (Post-Primary). The team was greatly encouraged by the full attendance and by the engagement and participation at both forums.
This is the first phase of a process towards the development of a shared calendar, further collaborative provision, and closer association with third level institutions and with business/industry.
Leadership and Management Clusters
On Oct 7th 2018, the former Minister for Education, Richard Bruton, announced a new clustering initiative. CSL was charged with coordinating this initiative in consultation with the Education Centres. Schools were invited to participate in a pilot scheme designed to support projects that involve innovative approaches to school leadership and management. The pilot scheme is designed to facilitate schools in harnessing and optimising internal leadership, management capacity and collaboration at all levels.
The closing date for receipt of these applications was Wednesday, December 19th.