Emotional Wellbeing – at the heart of school communities

This one-day symposium sets out to challenge current thinking on how emotional wellbeing is handled in the education sector and to build on existing work in this area. It will raise awareness of the importance of primary and post-primary schools embracing emotional wellbeing of both pupils and staff as a key measure of success - establishing and embedding a culture whereby all children feel safe to express their anxieties and can develop emotional resilience to meet the challenges they will face as they go through life. For staff, it means acknowledging that they may be experiencing difficulties themselves and how important it is to look after themselves and support their colleagues.
Speakers include:
o An Taoiseach Enda Kenny TD
o Conor Cusack - Wellbeing 'Ambassador'
o Dr Niall Muldoon - Ombudsman for Children


o Gordon Jeyes - CEO, Túsla - Child and Family Agency
o Dr Rosaleen McElvaney – Dublin City University
o Margaret Grogan - Regional Director, NEPS
o Suzanne Dillion - Assistant Chief Inspector
o Colma Nic Lughadha - Children & Young People's Services Committees
o Pat Goff - Deputy CEO, IPPN
o Clive Byrne - CEO, NAPD.

Panel Discussions will include additional speakers.
Have you used the IPPN Dashboard yet?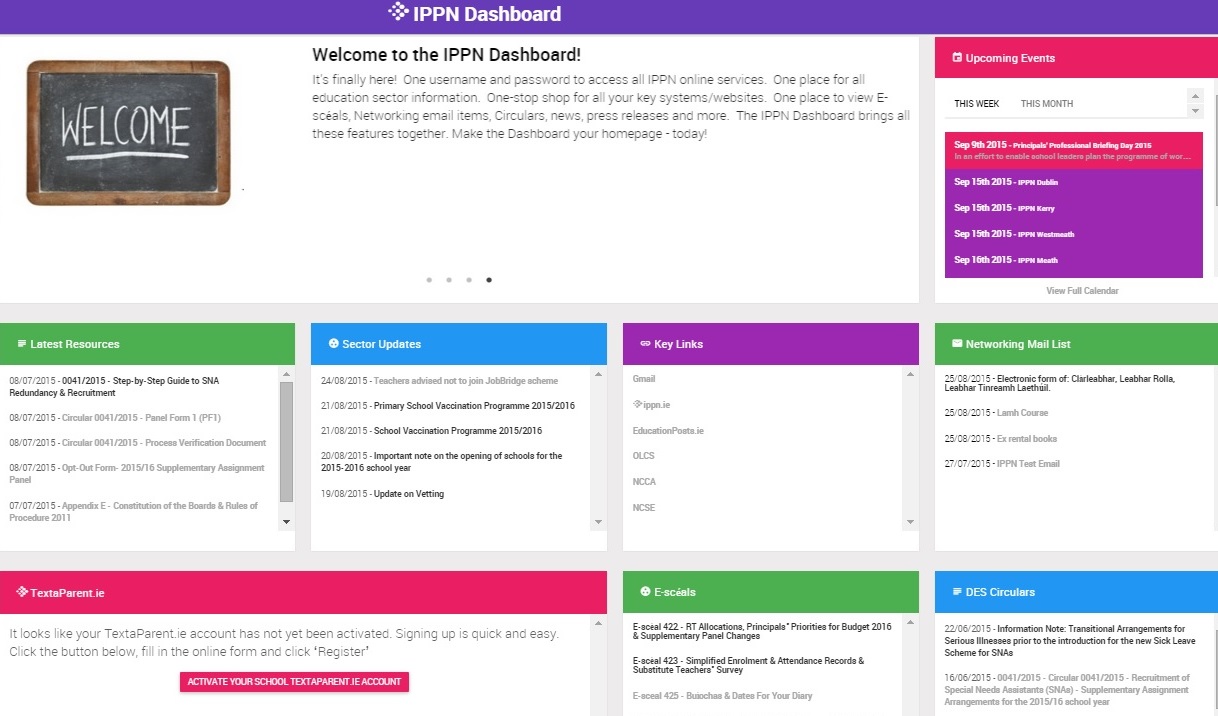 Why use it?
One username and password to access all IPPN online services – www.ippn.ie, TextaParent.ie and the Dashboard

One place to view recent E-scéals, Networking emails, Circulars, press releases, and

all education sector news

Link all your systems/websites in one place – add your school's internet-based admin system, and other favourite websites e.g. gmail, to the 'Key Links' widget

It works on all devices – PCs, tablet computers and smart phones!

The TextaParent.ie widget displays your school's data and provides a link to purchase additional text units or send an SMS – you will be logged in automatically if your school is set up on TextaParent.ie

Note: The Dashboard does not replace www.ippn.ie which is still the place to go to find resources, circulars etc