2019 Deputy Principals' Conference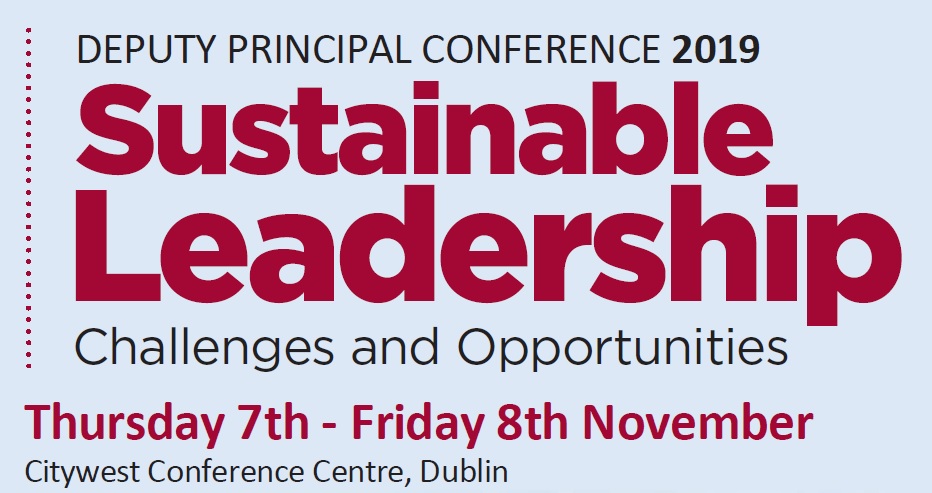 IPPNs' Deputy Principals Conference 2019 will have a number of keynote speakers who will help you engage in ways, that you as a Deputy Principal and school leader view 'sustainability' in the context of both leadership, and education.
This year we have changed the format – gone is the need to select your preferred seminar. All attendees will be able to avail of all seminar sessions.
Plenary Keynote Speakers

Seminar Facilitators

• Minister Joe McHugh
• Adam Harris, AsIAM
• Bernard McHale, PDST
• Karen Belshaw
• Damian White, IPPN President
• Brian Doherty, IPPN Deputy President
• Páiric Clerkin, IPPN CEO

• Dr. Joan Kiely
• Déirdre Kirwan
• Áine Fitzpatrick
• Angela Lynch
• Dr. Eemer Eivers
• Finbarr Hurley
• Maria Tully

Login details will be required
Who should attend
Deputy Principals
Principals (only if the Deputy is attending)
Please note there is substitutue cover provided for this event

When & Where
Thursday 7th & Friday, 8th November
Convention Centre, Citywest Hotel, Saggart, Co Dublin. Please contact the venue directly should you wish to book accommodation 01 4010500

Schedule
Thursday, November 7th
14.00 - 15.00 Event Registration & Expo Viewing
15.00 – 16.00 Seminar Session I
16.00 – 17.00 Networking & Expo Viewing
17.00 – 18.45 Conference Opening & Plenary Session I
18.45 – 19.30 Networking & Expo Viewing
19.30 – Late Conference Dinner with Entertainment
Friday, November 8th
07.00 – 08.00 Daily Mile
08.00 – 09.00 Registration & Expo viewing
09.00 – 10.30 Seminar Session II (for all attendees)
10.30 – 11.15 Refreshment Break & Expo viewing
11.15 –12.45 Seminar Session III (for all attendees)
12.45 – 14.00 Lunch & Expo viewing
14.00 – 15.30 Plenary Session III

Price:
A charge of €175 per person is applicable. Fee includes event registration, refreshments and a light lunch. Substitute cover is not available for this event.

Expo:
An Education Expo will run parallel to the refreshment/dining area for your convenience. Ensure you visit the 44 companies who will be exhibiting at your event.

Login details will be required