IPPN Mailing Lists 2017
Published:

09 October 2017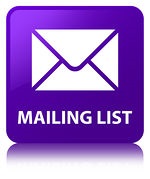 Members with @eircom email addresses are still experiencing difficulties with the receipt of emails from our networking mailing list. This is due to a technical fault with the provider eir (Eircom). We are currently attempting to resolve it.
We would suggest that if you have been affected by this issue that you contact eir directly or alternatively provide another email address to IPPN for the receipt of networking emails.
To update the mailing list with your new email address, log in to www.ippn.ie. Go to 'Supports' on the menu tool bar. Select 'Manage My Mailing Lists' from the drop down menu. On this page input your new email address in the field provided and select the mailing lists to which you want to be subscribed. To complete the process, click the 'Submit Changes' button at the bottom of the page.